11th March 2020
The Photography Show has been postponed until September… but for us the show must go on!
While it is a huge disappointment the show has been postponed, we have prepared some Spectacular deals so you don't have to miss out now!!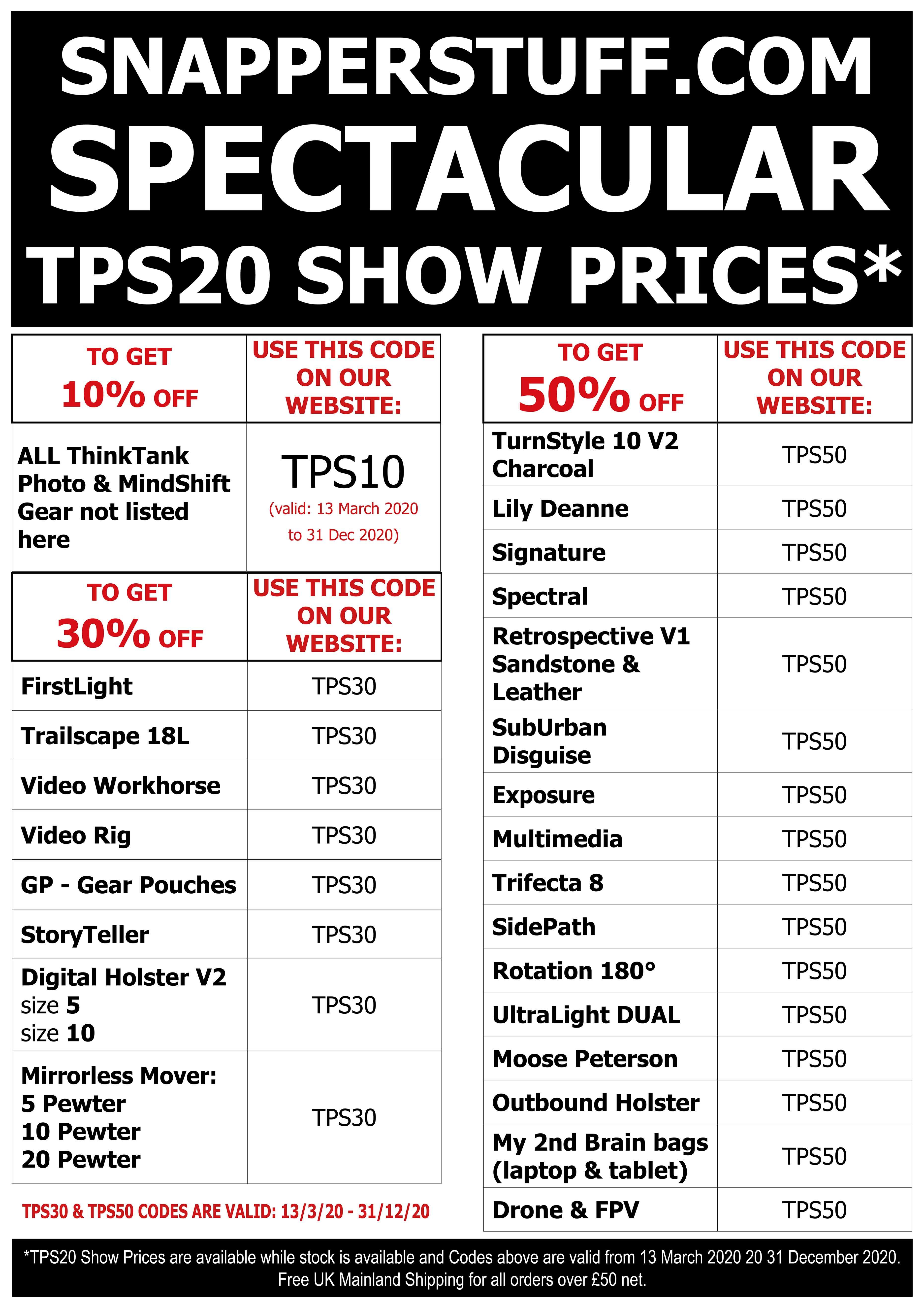 TO GET THESE DEALS ALL YOU HAVE TO DO IS:
Go to our website www.snapperstuff.com

Choose the products that you want to buy and add them to your basket

Go to Checkout and enter the relevant voucher code
CODES TO ENTER:
TPS10 = 10% off for all Think Tank Photo & MindShift Gear – valid 13 -17 March 2020 - extended to 31/12/20

TPS30 = 30% off for products listed on our poster (above) – valid 12 -22 March 2020 - extended to 31/12/20

TPS50 = 50% off for products listed on our poster (above) – valid 12 -22 March 2020 - extended to 31/12/20
QUICK FIND:

To help you quickly find the products offered at 30% off, click the TPS30 logo on our Home Page.
For those at 50% off click the TPS50 logo and you will find all the products for that offer listed there.
IMPORTANT NOTE:
You can only use one voucher code at a time, so for items that are not included in the offer, you will need to place a separate order… don't worry, if you place your orders one after the other then we can ship them all together!
SHIPPING:

Oh… and there's free UK Mainland Shipping for these offers!
SHOW YOU - NEW THINK TANK PHOTO & MINDSHIFT GEAR

For us The Photography Show is a brilliant platform for you to get your hands on the full range of Think Tank Photo and MindShift Gear we have. This year, more than any other, we have a VERY WIDE RANGE OF NEW GEAR!
So, over the show period we want to try and bring our bags and accessories to life for you online.
We have reached out to camera manufacturers to loan us some cameras and lenses, and extremely touched at the support and generosity of them. They truly have been AMAZING and we can't thank them enough!
Our fantastic team of Professional Photographers will be creating videos over the show period for you, to show you how well the different camera gear fits in the new bags… and we will also film the cameras with as many more bags as time allows!
Please look out for our posts on Social Media channels, and we'd be extremely grateful if you would share and spread the word amongst your photographer friends too!
We have also just heard that the new dates for the show have just been announced: 19 – 22 September 2020 at the NEC.
Thank you
From all Snapperstuff