31st July 2019
The Rooky…
As the nickname suggests I am a complete rooky when it comes to the art of photography.
A chance meeting in a hotel (sound legit right!) has led me back into my passion of taking pictures. I won't bore you with the details suffice to say I met Helen Atkinson and struck up a rapport. Golly that sounds awfully formal, however after chatting as you do, I have attended a couple of photography shows as an extra pair of hands and gofer for Snapperstuff, which brings me back to the photography and a little about me.
I do not hold any qualifications in any form of media, never been trained BUT I have an artistic eye (some would say autistic due to having ASD) and love artsy stuff.
My photography started with a simple point and shoot cheap affair, clicking away and using nothing more than windows to crop photo's. My wonderful husband AKA Mr Rooky who always indulges me in any mad cap scheme or new passion, bought me a lovely DSLR a Canon EOS 600D which I started to play around with.
Now this camera scared me to death with all its dials and buttons and I had no clue how it worked, I took it out a few times and then it got put away and forgotten about… that was until Mr Rooky started to use it more than me. He seemed to get to grips with it.
Recently things started to change, I got into mobile phone photography (I can hear sucking of teeth sharp breaths being taken) as many condemn those who choose this medium. So to keep a short story long, I have posted my speciality on my Facebook page, flowers mainly but I wanted to expand on this and offer as an alternative to mainstream photo shoots with a mobile phone version, I hasten to add that I am in no way trying to butt into the professional field simply to expand my own interest in mobile phone photography. Some of my friends took me up on the offer, I was asked to shoot a wedding (a professional photographer was booked, but I was an extra as a guest and to expand my own portfolio), well things went a bit wrong and my friend and her photographer fell out!
Guess what, I got an urgent message to call her husband to be, 48hrs before the wedding. I returned called and they wanted me to photograph the whole event. SCARY!!
OH MY GOSH…. What was I going to do, well I took out the DSLR and with a little bit of coaching from Snapperstuff I was armed ready to take on the job as wedding photographer no less? My friend understood I was no professional, but she was relieved that her day had been saved. The results will be posted in a future blog after the blushing bride and new husband have seen said photos and I promise that I will keep the waffle to a minimum, but let's face it this is the first time you have heard of me.
Since then I have been using the DSLR and getting to grips with its functions, however Mr Rooky came up with a whizz of an idea for us to go out when work allows at a weekend to some interesting places to encourage me to use my camera. So, I brought a second camera a Canon M5 and I must say due to the touch screen I find it easier to use so Mr Rooky gets the DSLR.
WHAT DOES THIS HAVE TO DO WITH THESE BLOGS I hear you cry, what is the actual point of your post ROOKY?
As the newest Team Snapperstuff member, and keen amateur photographer, I have been asked (lucky for me) to present another point of view: one from a non-professional angle. There are some really cheap bags out there, however I think that you need to invest in a good quality bag that suits the environment you need it to work in.
Recently the poor long-suffering Mr Rooky arranged for us to go for an early sunrise photo shoot at the Rollright Stones at Long Compton, when I say early, we had to leave the house at 3.00 am! The weather was, let's just say not really suitable for getting that romantic sun shining through the trees and hitting the stones image, despite all the fantastic weather we have had in July.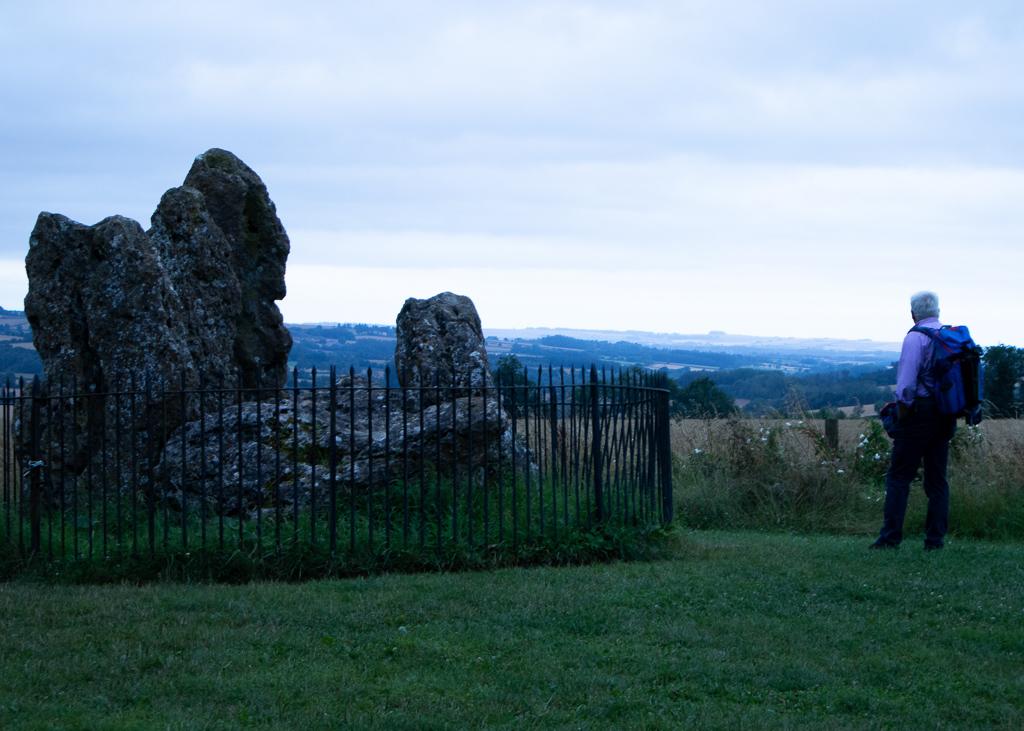 This review is on the MindShift Gear Rotation 180 Horizon (we were going to do the Mirrorless Mover 25i also, but Mr Rooky forgot to take photos of me using the bag DOH!) So that will be at a later date.
As we had planned to have breakfast out, we did not need to pack too much stuff. The equipment we took:
2 x tripods – The bag has a handy loop at the top centre which you can tighten and a little pocket at the bottom for one tripod to sit comfortably in along with another loop at the bottom also that you can tighten so you can take both.
2 x thermos mugs – One sat in the handy stretch pocket at the side and the other mug was put is the side zipper pocket.
1 x Canon DSLR EOS 600D with 18-55mm lens – This was put in the camera bag part specifically designed for cameras
1 x 70-200mm Sigma lens also in the camera compartment
2 x spare batteries – camera compartment with some spare SD cards
2 x 500ml water bottles – Put into the main body of the bag
2 x Large folding umbrella's – Put into the main body of the bag
2 x pack-a-mac – Put into the main body of the bag
1 x warm jumper – Put into the main body of the bag
Of course, there was the wallet and house keys too!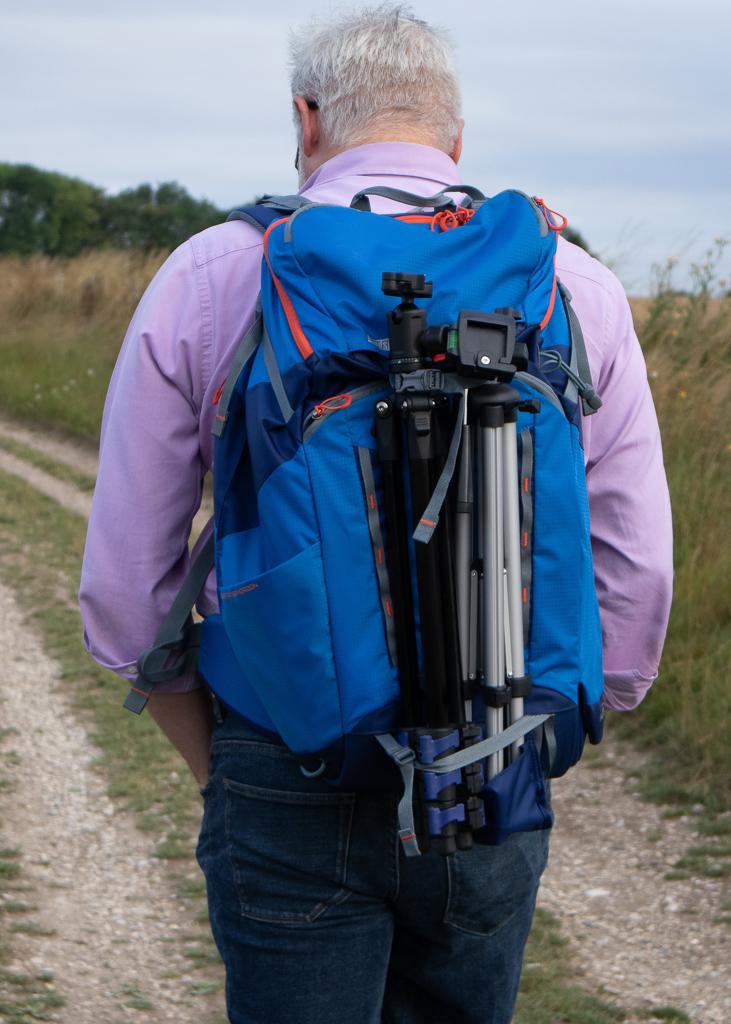 Mr Rooky was the designated wearer of the Rotation 180 Horizon bag (down to the fact I am a weakling despite being built like the broadside of a barn). Once all loaded, he put the bag on, and we adjusted it to fit. He was surprised on how comfortable the bag was and how much stuff we were carrying did not feel that heavy.
So, into the car and drove off. On arrival at our destination, Mr Rooky put on the bag and we started our morning of photo taking. The first task for him to complete was to operate the small thumb catch to release the rotation part of the bag and allow access to the camera compartment. Mr Rooky found that bit really easy and a nice touch, however he struggled with the actual rotation part once the camera compartment was free.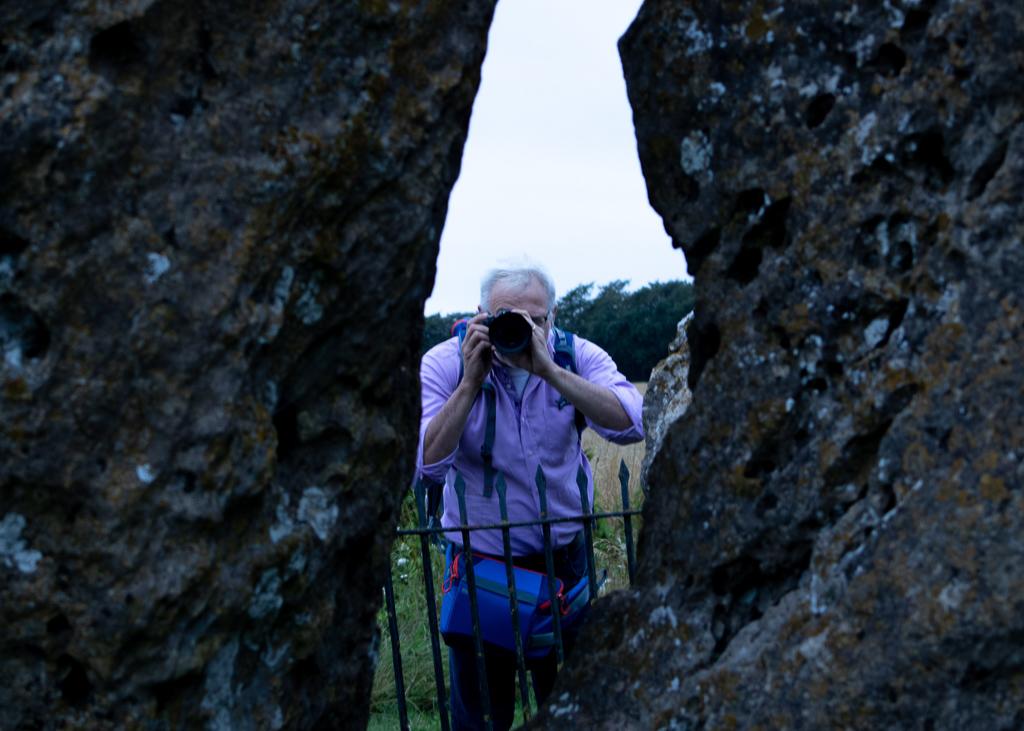 This more than likely "operator error" opposed to a design issue. It may have helped if he had loosened the belt before wrenching round so that he could use the camera? But a really useful feature as you don't have to take the backpack off to get at your camera.
Mr Rooky did like the fact that he could still wear the backpack and have the beltpack rotated round in front of him with the camera quick to hand. So, he decided for the rest of the morning keep the belt pack in front him.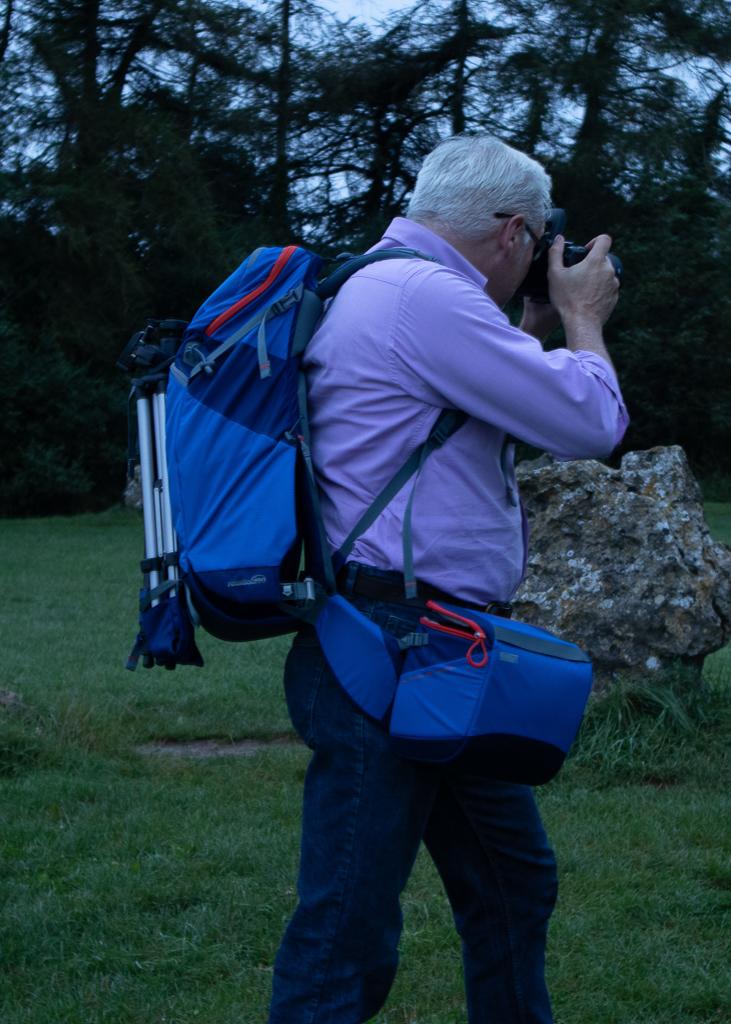 There was plenty of room left in the top of the bag, even with what we had stashed in it, to put more clothing and a decent packed lunch. The beltpack camera compartment also had lots of room left in it for even more lenses or anything else you would need for your day's shoot.
He wore the backpack continually for over 3 hours while we walked around travelling from each of the locations, he said that it was really comfortable, the shoulder straps did not rub or dig in and the waist belt was nice and wide and adjusted easily. As you can see from the photo's, Mr Rooky does indeed make a lovely model and you can see clearly the tripods and the beltpack camera compartment.
So, in a nutshell the Mindshift Gear Rotation 180 Horizon backpack gets a huge thumbs up from myself and Mr Rooky.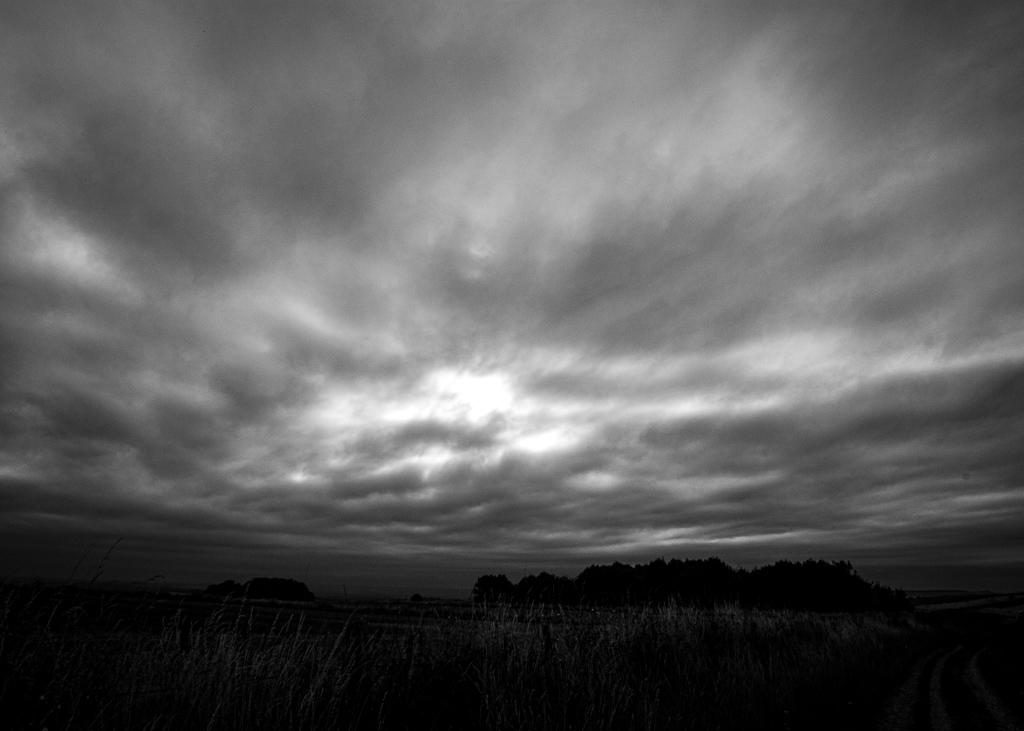 The next blog to look forward to will be the Digital Holster 20 that I used for the wedding.
Thanks for reading
The Rooky