1st October 2019
I am an amateur photographer currently living in Herefordshire. My father gave me my first camera when I was a teenager – an Agfa Rapid – and my interest in photography developed from that gift.
Since retiring a tad early in 2014, I have been able to focus on my photography full time. I love sport and was delighted to be given the chance to photograph the Worcester Wolves matches, having taken many school trips to the club. Here's a monochrome image taken at the Worcester University Arena this season: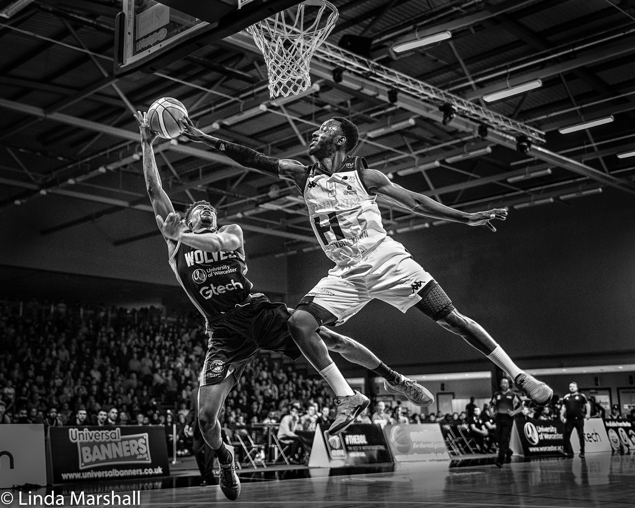 I also love to photograph big birds [eg Bewick's swans at Slimbridge, red kites at Gigrin].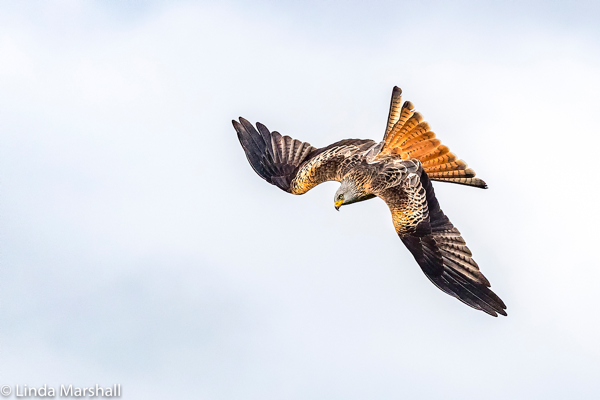 When I can get to the coast I also like to photograph action: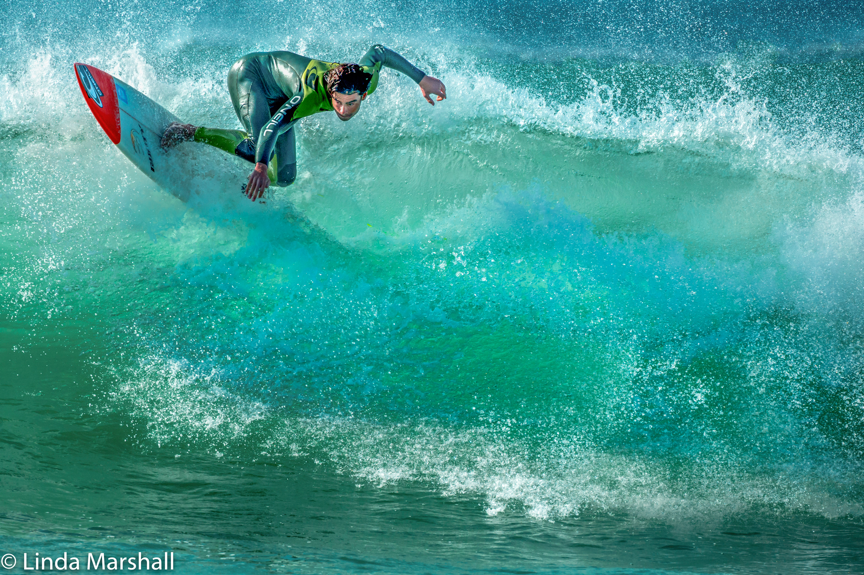 I am working on a monochrome series of coastal imagery – here's one currently in the set which will be printed on matt paper: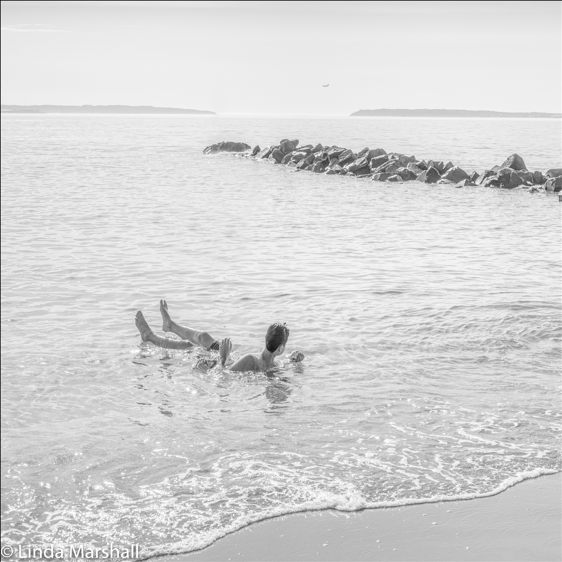 With the help of Beacon Camera Club members, you tube and trial and error, I have been developing the skills to create more abstract imagery: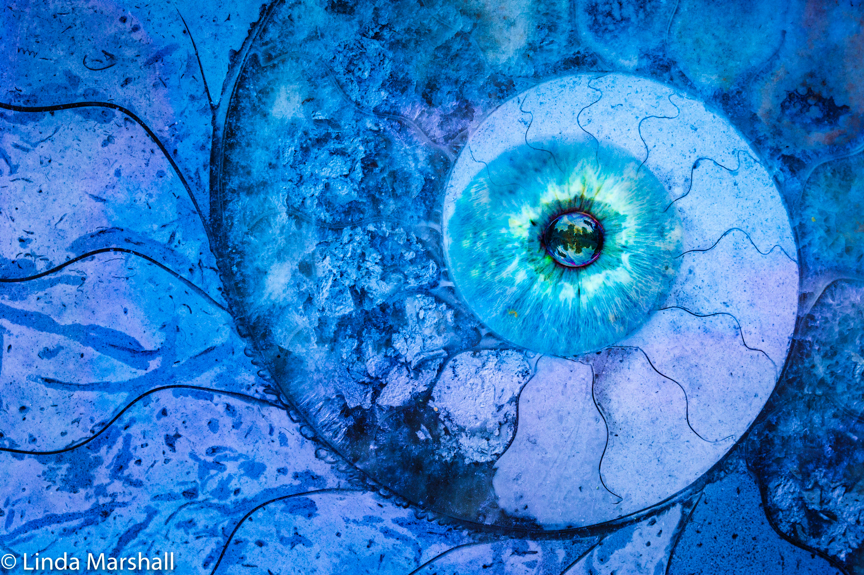 My grand day out! The BBL Cup Finals Arena Birmingham – January 29th 2018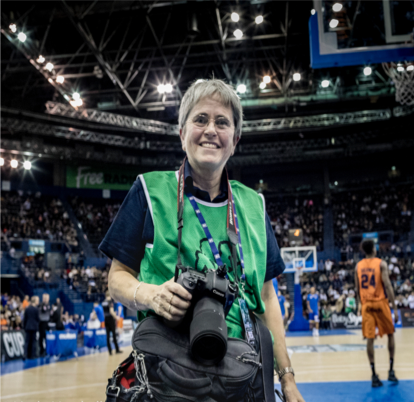 I have a left shoulder injury and an obvious lens choice [70-200mm f2.8ii ] had to stay at home as the shoulder wouldn't tolerate hefting it about all day. Taking both the Speed Freak and the Airport International enabled me to take more gear than I could physically carry – rucksacks are out of the question at the moment. When I arrived at the arena, photographers were very restricted and I had to experiment with the primes from the corner of the court selected from the roller bag [ which was secured secured to a chair with the built in metal cable – a great feature]. Deciding that I couldn't get the shots I wanted from the corner of the court, I managed to create enough space next to the basket to move in a chair next to the lad whose job it was to wipe up the sweat from the court when the players clattered to the ground. This enabled me to support the camera with my left elbow resting on the bag on my knees. At half time, at the other end of the court, I had to sit on the floor. My bag helped a great deal again – supporting my shoulder. At the end of the 3rd quarter, I stood up to stretch my legs out [much muttering amongst fellow photographers about sore knees], took a couple of steps away from my position to lose my spot within seconds to a guy who just nipped in and sat down! Lesson learnt…. Thanks to Tom Bennett of Razorlight Imagery for the mug shot of me holding his camera, taken shortly after I lost my spot on the floor.
ThinkTank Airport International V2
The gear in the two Think Tank bags I took to Arena Birmingham for the BBL cup final on January 28th was as follows:
Canon 24-70 II f2.8

Canon 300mm f4

Canon 135mm f2.8

Canon 200mm f2.8

Canon 16-35m II f4

Canon 35mm f1.4

Olympus OMD EM1 Mk2

Olympus 12-40 f2.8 PRO

Olympus 7-14mm f.28 PRO

Think Tank Card pouch – more spare cards

Fuji X100T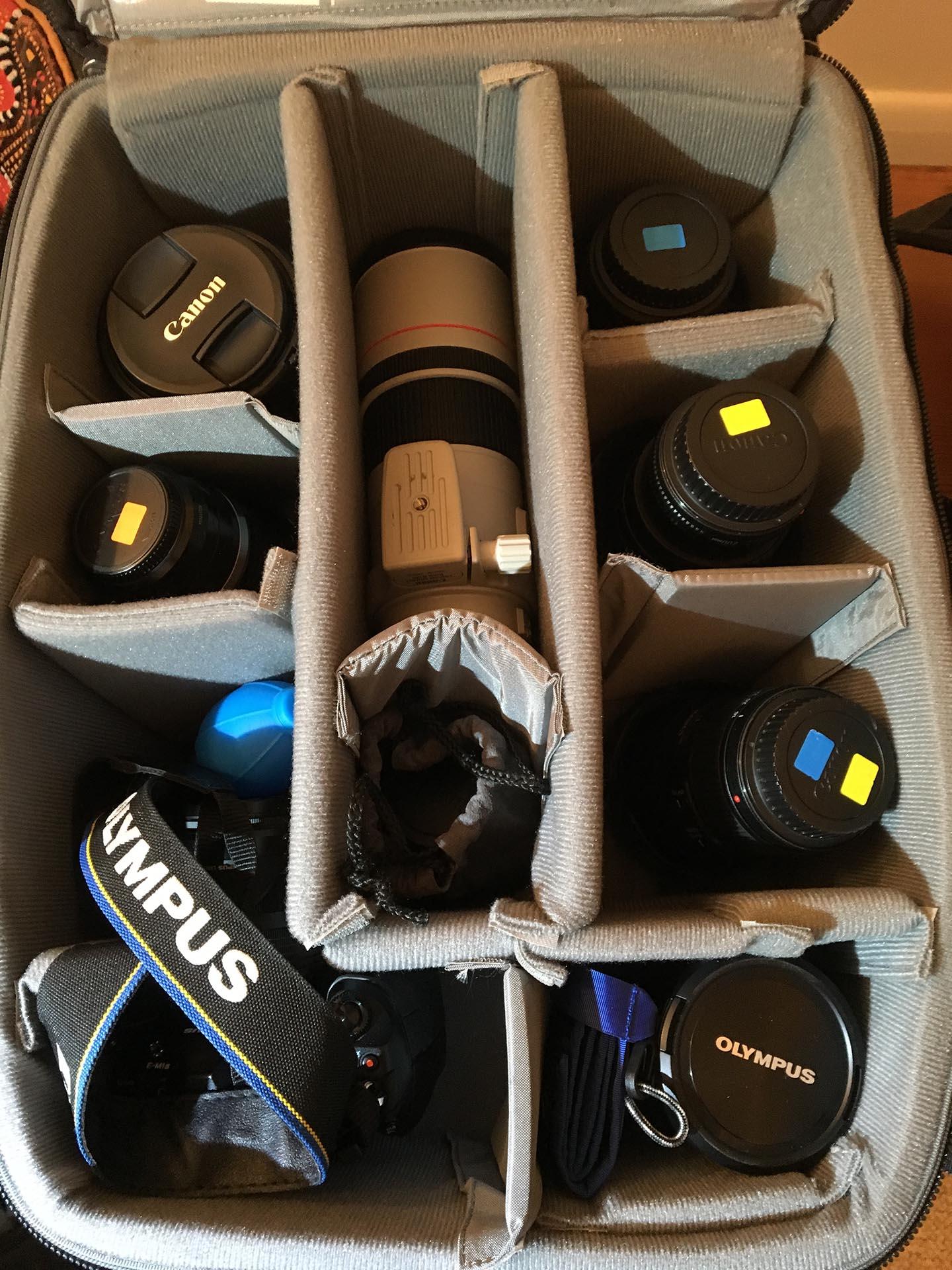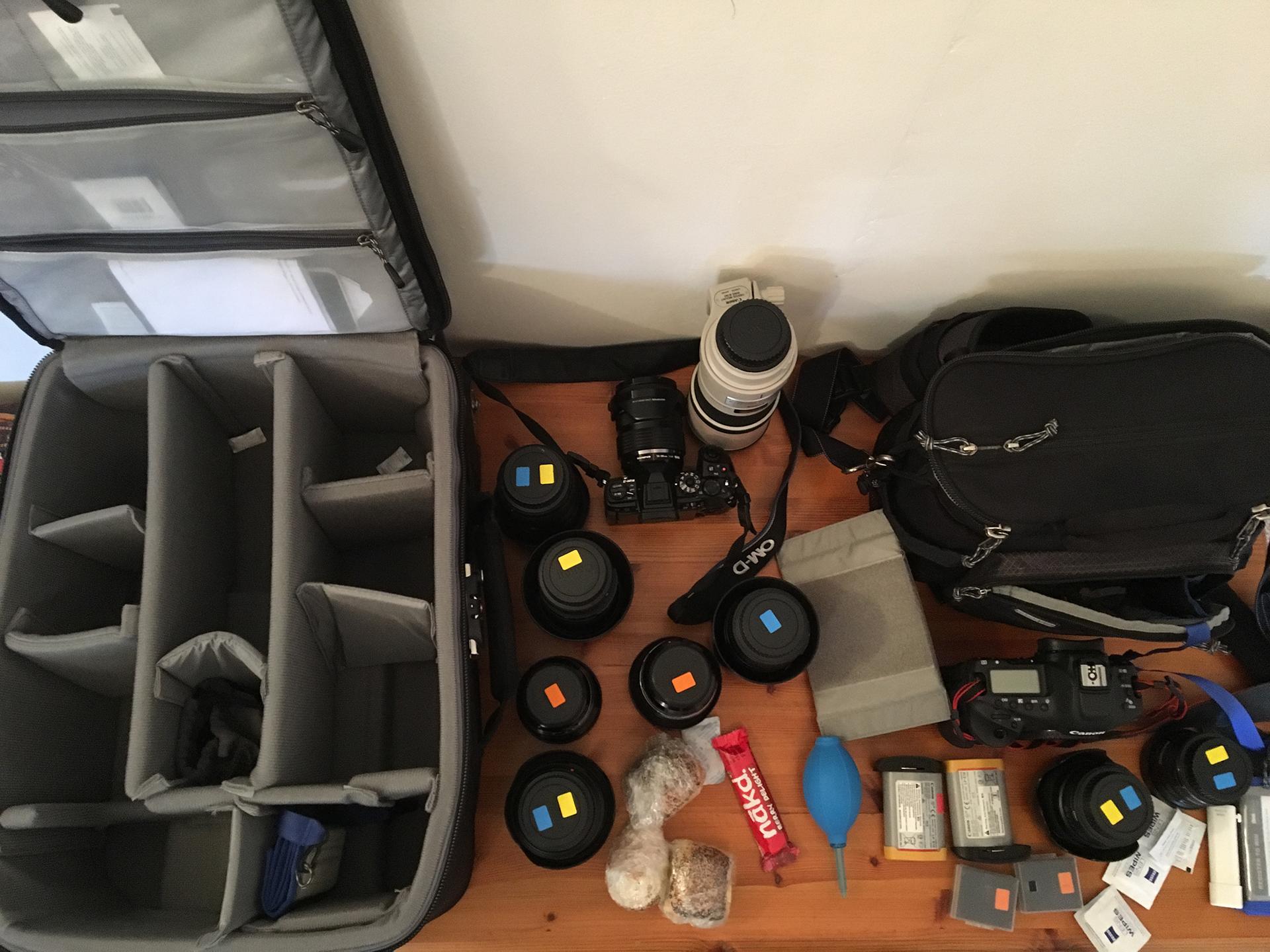 ThinkTank Speed Freak:
Canon 15mm f2.8

Canon 1DX2

Think Tank Card pouch – spare cards

Blower brush

Systema waterbottle

2 spare 1 DX batteries

2 spare Olympus batteries
I have two waist bags: The Speed Freak and the Speed Racer. I am most comfortable with the Speak Freak for my basketball photography.
At a home match, I can take move around easily with all the lenses I need without having to be concerned about the security of my kit. The belt is broad enough to be comfortable and the external pockets give plenty of space for cards, my phone and money and a snack. In the lid, there is an easy place to stash lens wipes, a spare card and business cards; I now avoid putting anything metal here as an allen key escaped once and lightly scratched the back of my camera. The Airport International also takes a shedload of gear; I believe the latest version has a more robust handle but I am not prone to dragging my bags up flights of stairs so it is not a drama for me.
It would be fair to say that I am a ThinkTank convert; I have 6 of their bags; all well made, hi spec material and created by sensible people who put handles where you need them!
Snapperstuff will be at the Photo Show again this year at the NEC; I always call in for a chat and usually come away with a bargain. J
You can find more of Linda's work at the Beacon Camera Club website here:
Beacon Camera Club – Linda Marshall
If you'd like to see Linda in action she'll be courtside for the Worcester Wolves at the Arena for their home games.
Beacon Camera Club in Malvern – are also running their annual showcase event at the Swan Theatre, featuring Joe Cornish, on 14 July. If you'd like to see and hear one of Britain's greatest landscape photographers get your ticket here: BEACON CAMERA CLUB